PUERTO RICO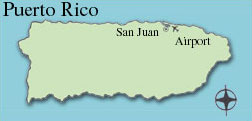 Population: 3.6 million approx.
Capital: San Juan
Currency: US Dollar
Power: 110V
Language: Spanish, although English is also an official language.
Description: 3,515 sq miles and a commonwealth of the US. One of the most densely populated islands in the world (1,000 people per square mile!). The interior is mountainous with numerous lakes, rivers and waterfalls. El Yunque -- 28,000 acres of rainforest -- gets 100 billion gallons of rain fall annually, creating a lush forest with plants of incredible proportions and variety. In the North there are several spectacular limestone cliffs, sinkholes and caves. The architecture of Old San Juan includes several squares and narrow streets with a distinct Hispanic flavor.