ST. MARTIN (french)
ST. MAARTEN (dutch)
SABA & ST. EUSTATIUS (dutch)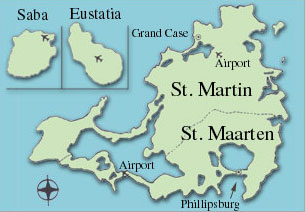 Population: 36,000 approx.
Capital: French : Marigot / Dutch : Philipsburg
Currency: French Franc and Netherlands Antilles Florin
Power: French 220V - Dutch 110V
Language: English / French / Dutch
Description: Smallest land mass to contain two nations: French side is 21 sq. miles and Dutch side is16 sq. miles. Duty free port.
French side has long, pale beaches dotted with cafes and bistros. Colorful open-air market. Dutch side has a thriving commercial district and heavily developed tourist trade: many large hotels and casinos.
Saba is a small volcanic island with wonderful wall diving -- and a town with the irresistible name of Bottom. St. Eustatius (Statia) is small, hilly and fairly arid.