ART DEPARTMENT
Caribbean Crews can work their magic on the most challenging set building and props fabrication needs. Challenges like building a raft to hold Luciano Pavarotti, along with his throne-like chair, a grand piano - and two full size mermaids for an Italian Bank commercial we shot in Tobago.
Working for Traktors Malibu Rum "Parking" commercial in the Grenadines, Caribbean Crews' Art Department built a 20 meter (70ft) jetty, in case you have not seen this here it is along with a few more of the Malibu commercials. We all enjoyed working on these, crew and cast alike, and they're still fun to watch.
Malibu commercials, "cellphones", "doorman", can also be found on YouTube.
On the small island of Carriacou in the Grenadines we built and destroyed a complete town market for the Fat Boy Slim music video "Ya Mama." Actually we built and destroyed rather a lot.
For the Akzo Nobel Paint corporate film shot in Antigua our team aged a charming wooden beach house to seem like the paint was peeling and the Parrot Bay bus drove through the streets of Tobago like a giant tropical bird.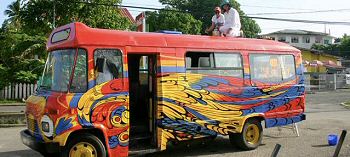 For the 118 118 Directory Inquiries shoot in Antigua, our set designers built a prison set in two days and got hold of a crashed plane which had to be dragged the length of the island onto a remote beach while for Stella McCartney/Adidas stylized but full size goalposts strong enough to hold a swinging girl where barged out to the resort island of Jumby Bay.
And, as you might have guessed, our Caribbean Crews' Art Department crew have built more funky beach bars on deserted beaches from Trinidad to Tortola than we have even drunk in!
Recent Production Articles
For the feature film titled "Nowhere Man", shot in Barbuda. For La Parti Productions, our Art Department painted dozens of the trees in a palm plantation, built a bar in the middle of nowhere and collected cockroaches.
Here, one of our crew tells more: Nowhere Man.